Oxygen-fired burners
¶
If Wikipedia is right, this idea is just a little older than you all (since the 1990s).
Costs
Benefits
Practical for:

No smoking!
Need air separation unit
or to purchase O2

No air ⇒ no blower, no NOx
Heat not wasted on warming N2
Higher maximum temperature

Glass melting
Metal applications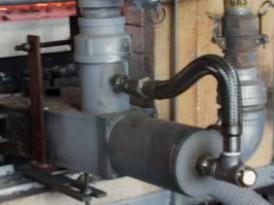 Prior to oxy-fuel burners, gas-fired glass melting used complex heat recovery to preheat the air.
Otherwise there's no way to achieve the necessary temperatures. Of course, other fuels also worked.